The countdown has begun to see the first and only person with diabetes in the world venturing to outer space…
Josu Feijoo is a mountaineer from Vitoria in the Basque country. He lives by his own maxim: the future belongs to those who believe in the beauty of their dreams.
Since he was just 4 years old, Josu has had more than a few dreams, and he has believed in them enough to transform them into reality. At the age of 23 he was diagnosed with Type 1 Diabetes. Did this mean his dreams should be abandoned? Absolutely not!
An extraordinary athlete, who has taken himself to places most of us will only ever see on a screen; Josu has always pushed himself to daunting and dangerous physical and emotional limits. His eagerness and desire to always do better helped him to achieve his first real ambition, earning himself a place among the world's mountaineering élite – climbing the highest mountains of the seven continents (Seven Summits) and walking both the North and South Poles. Today he is recognised as one of the most hardened adventurers on Earth, and now he wants to take a massive step beyond…
During his last two expeditions with a group of people with Diabetes to the base camp of Mount Everest, he put his complete trust in the "GlucoMen LX PLUS" blood glucose meter to help him stay in control of his blood sugar levels, proving not only was the meter as robust and reliable as we all know it to be, but that it also maintained its high levels of accuracy and performance, even in the most extreme conditions.
Now through a joint project with A.Menarini Diagnostics called "DIABETES, NO LIMITS", Josu will soon be able to prove that with the help of the GlucoMen LX PLUS, outer space is not an un-crossable line, not even for a person with Diabetes…
The GlucoMen LX PLUS meter was put through the ultimate test at the 'Yuri Gagarin Cosmonaut Training Centre' in Moscow, and placed in to a centrifuge, a piece of equipment that applies extreme forces on an object by spinning it in circles at high speed, simulating the conditions of space. Josu's blood glucose levels were measured before entering the centrifuge and then again upon exiting, and despite the 5.5 G-Force and extreme pressurised conditions, the GlucoMen LX PLUS meter emerged FULLY functional and in perfect working order!
It soon became clear that Josu had finally found a reliable 'companion' which will enable him to achieve his life long ambition, whilst keeping his blood glucose levels monitored and under control. And now with thanks to A. Menarini Diagnostics, Josu will also be able to transmit his meter test results to Earth, using the GlucoLog Diabetes Management Software, where he can remain fully monitored in real-time by the Endocrine service at the Carlos Haya Hospital in Malaga (Spain).
We are extremely proud of Josu, and wish him the best of luck in his adventure to space! We are even more delighted that the GlucoMen® LX Plus is now recognised as not only spin proof, but a true force to be celebrated!
Find out more about GlucoMen LX PLUS and the GlucoLog Diabetes Software and mobile apps at www.glucomen.co.uk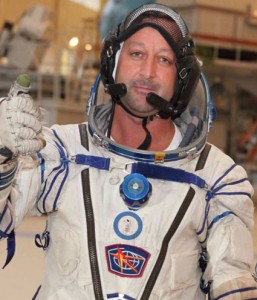 SEE ALSO