Quality You Can Trust
New ISO accuracy requirements came into effect in May 2016. All meters that to do not meet the new standards by this date must be immediately replaced. GlucoMen® LX PLUS meets all of the new criteria with full supporting evidence available.
If you are not currently using a GlucoMen Areo or GlucoMen LX PLUS meter but are concerned that your meter does not meet the latest accuracy standards, why not contact the GlucoMen helpline on 0800 243667 or apply for a free upgrade today...
Testing for Blood Glucose and Blood Ketones to prevent DKA
GlucoMen LX PLUS enables dual testing of blood glucose and blood ketone levels, for added protection from Diabetic Ketoacidosis (DKA).
If you use GlucoMen LX PLUS to test for blood ketones, make sure you use it to test for blood glucose as well to ensure that it is to hand and performing accurately and correctly at all times. It should not be used as a ketone-only meter. Symptoms of DKA usually evolve over a 24 hour period, with the first sign often being hyperglycemia so testing both glucose and ketones on the same meter will help ensure you are getting the best protection.
Technical Specification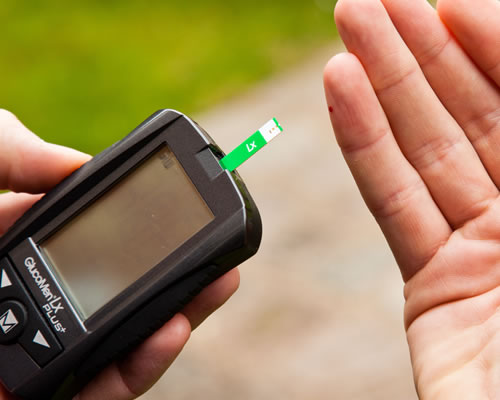 | | |
| --- | --- |
| Blood Glucose Monitoring | Simple, easy and accurate testing |
| High Accuracy | Exceeds ISO 15197:2015 requirements for accuracy |
| No Coding | Quick and easy, safe and accurate |
| Lifetime Warranty | For peace of mind |
| 4 Second Results | Fast results for convenient testing |
| Ketone Alert | An alert to test for ketones |
| Free GlucoLog Software | Helps spot trends and patterns |
| Ketone Test | DKA Prevention |
| Pain Free Testing | Finest, ultra-thin lancet available |
| 0.3ul Sample Volume | Reduces the discomfort of testing |
| Free Coloured Covers | Accessorise your GlucoMen LX PLUS meter |
| Meal Markers | Mark your results - For diabetes control |
Product Support
Customer Support Team
Our helpline is open Monday to Friday 8:30am till 5:30pm
Great Britain
0800 243 667
0118 9444128
Republic of Ireland
1800 709 903
Northern Ireland
0800 7837286
Downloads
Click on a link below to download